Uganda
Uganda is where the East African savannah meets the West African jungle. Where else but in this uniquely lush destination can one observe lions prowling the open plains in the morning and track chimpanzees through the rainforest undergrowth the same afternoon, then the next day navigate tropical channels teeming with hippos and crocodiles before setting off into the misty mountains to visit the majestic mountain gorillas?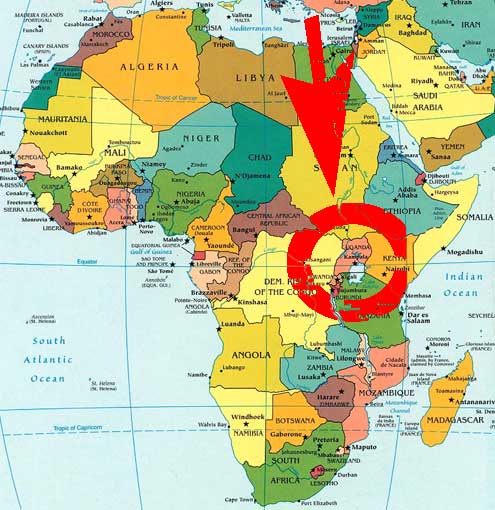 Uganda is the only safari destination whose range of forest primates is as impressive as its selection of plain antelopes. Besides the wide biodiversity, Uganda is also blessed with a vast bird population of more than 1,000 species.


Rwanda
Rwanda is a land of great diversity and beauty. Popularly known as 'the land of a thousand hills', Rwanda has six volcanoes, home to the mountain gorilla, twenty-three lakes and numerous rivers, some forming- the source of the great River Nile.

The landscapes in this green country are truly breathtaking. Many a visitor to Rwanda has remarked that the physical beauty of the country is without equal on the African continent. Spectacular volcanoes and dense tropical forests dominate the north of the country, while gentle hills and valleys, calm lakes and turbulent rivers in both Savannah and dense tropical vegetation dominate the rest of the country.

Rwanda boasts a wide variety of wildlife. The Parc National des Volcans, in northern Rwanda is home to the world's largest number of endangered mountain gorillas. The gorillas live in a protected area, free from poachers. The gorillas can be viewed in their natural mountain habitats through organized gorilla tours at a very close range.

Best known for its wealth of primates, Rwanda also has one of Africa's richest bird life. A staggering 670 different bird species have been recorded in Rwanda. For botanists, the gorgeous wildflowers of the forests and mountains are capped by more than 100 orchid species in Nyungwe alone.

The Akagera National Park in eastern Rwanda is teeming with wildlife both large and small. They range from Lions, Giraffe, Elephant and Hippopotamus to Hyena, Impala and Gazelle. There is a rich variety of bird life at Akagera as well.

When not visiting the mountain gorillas, Rwanda also has water bodies which are ideal for water sports and fishing, particularly Lake Kivu in the west of the country and Lake Muhazi in the east. Lake Kivu also offers beautiful beaches, jutting peninsulas and an archipelago of beautiful islands.

Rwanda, in a nutshell, is a nature lover's paradise. It is also one of the friendliest of countries. A warm welcome is complemented by comfortable facilities, fine food and a rich cultural heritage.