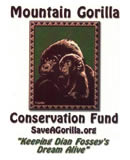 The Mountain Gorilla Conservation Fund (MGCF), in partnership with Uganda Wildlife Authority (UWA), is dedicated to the conservation and protection of the highly endangered Mountain Gorillas. By providing a partnership of business, wildlife conservation, and community development, MGCF addresses the single biggest challenge facing preservation of these animals today. By helping communities in developing areas grow and prosper without destroying precious habitat of the Mountain Gorillas, who call it home. A portion of the proceeds from product sales will go directly to projects managed by the MGCF and UWA.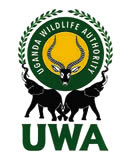 The mission of the Mountain Gorilla Conservation Fund (MGCF) along with its partners in the field are dedicated to expanding the Wildlife Health Resources Management (WARM) at the Makerere University in Kampala, Uganda Africa. The new, "Ruth Morris Keesling Center of Wildlife Health and Medicine" is teaching local Africans about wildlife health management with the continuance to obtain full Wildlife Veterinarian degrees for the protection of Africa's wildlife.
The MGCF is a U.S. registered 501 (c) 3 non-profit, with its headquarters in the USA and local offices in Uganda and Rwanda. All donations are tax-deductible and, regardless of amount, help us to keep Dian Fossey's dream alive.
We appreciate your support. Thank you.
Our new line of exclusive, custom made Silverback Jewelry now has it own department. Necklaces, pendants, bracelets, earings, wine glasses, etc.,
Check it out!
Now only $5.00 Flat Rate Shipping for all USA orders - Any Quantity!
(click images for large size view)
SILVERBACK COFFEE OF RWANDA™ is committed to participating in the rebuilding of Rwanda and its wildlife and giving back to the people who were affected in the genocide of 1994 by providing the world with the highest quality coffee and tea.

---
Flopsie Plush Gorilla 12"
This soft & cuddly gorilla measures 12 inches and features a floppy, bean-weighted body.

---
Cuddle Pal Gorilla
Get your very own Cuddle Pal gorilla. This little guy stands 6" tall and will fit perfectly into your animal collection world.



Buy a package of 6 for $49.95

#1016 (one)
List Price: $9.95
SOLD OUT



---

#1017 (six pack)
List Price: $49.95
SOLD OUT

---
Hand Carved Wood "Silverback"
Gorilla from Bwindi, Uganda
This hand carved gorilla is made by a local artisans group called Bwindi Youth Group, in Uganda. By purchasing this gorilla, you are helping these students buy school books and other school supplies for their education. This item stands at 8" tall.


#1005
List Price: $19.95

SOLD OUT

---
Hand Carved Wood "Mother with Baby"
Gorilla from Bwindi, Uganda
This hand carved gorilla is made by a local artisans group called Bwindi Youth Group, in Uganda. By purchasing this gorilla, you are helping these students buy school books and other school supplies for their education. This item stands at 5" tall.


#1006
List Price:$14.95


SOLD OUT

---
Friendship Basket
This basket is for friendship and the sharing of secrets, the distinctive zigzag design tells a story of two friends walking together along the path of life. Sometimes, they pause and share experiences, then continue on their path. It symbolizes their friendship, but sometimes these friendships can take many routes.

* Made from rows of naturally colored sweet grass.
* Shaped like pagodas, each basket is a unique work of art.
* Height: 10-15cm, Diameter: 6cm
* Lids stay firmly closed to hide the secrets inside.
* The loop on the top allows the baskets to be hung up. This makes them ideal for decorating Christmas trees and concealing small gifts.
* Made in Uganda

#1009
List Price:$19.95


SOLD OUT

---
Gorilla Headband
FancyBandz Gorilla Headbands are made of 100% cotton, with a velvet backing for "no slip" easy comfort. Connected with black elastic. FancyBandz by Lucy

---
Tan Cap
with "Mghanga Gorilla National Park" logo
Unstructured, low profile 6 panel twill cap, metal eyelets and a self fabric adjustable closure with velcro. This cap features metal eyelets for ventilation with a classic look.

---
Gorilla Ties
Wear a tie and save a gorilla! Made of silky 100% polyester fabric; 57" long, 3 1/2" wide (at widest point). Colors: Dark Blue with a silver Mountain Gorilla embroidered.



---
Adult Gorilla Suit
Be the new king of the jungle with this classic black gorilla suit. This Adult Gorilla Costume is a full sized jumpsuit with black gorilla fur, a chest and a detailed mask.



     
 
Available sizes are:
Small - Fits up to 5' tall
Medium - Fits 5' to 5'7 tall
Large - Fits 5'8 to 6'1 tall
X-Large - Fits 6'2 - 6'5 tall

#1022

List Price: $79.95
Additional Handling Charge: $10.00
Total Price: $89.95


---




Shopping Cart by E-junkie
© Copyright 2012, The Mountain Gorilla Conservation Fund