Rwanda is a land of great diversity and beauty. Popularly known as 'the land of a thousand hills', Rwanda has six volcanoes, home to the mountain gorilla, twenty-three lakes and numerous rivers, some forming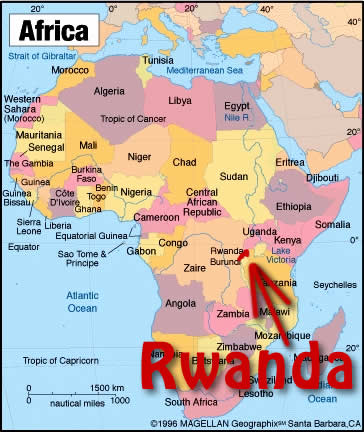 the source of the great River Nile.

The landscapes in this green country are truly breathtaking. Many a visitor to Rwanda has remarked that the physical beauty of the country is without equal on the African continent. Spectacular volcanoes and dense tropical forests dominate the north of the country, while gentle hills and valleys, calm lakes and turbulent rivers in both Savannah and dense tropical vegetation dominate the rest of the country.

Rwanda boasts a wide variety of wildlife. The Parc National des Volcans, in northern Rwanda is home to the world's largest number of endangered mountain gorillas. Numbering in the hundreds (650), the gorillas live in a protected area, free from poachers. The gorillas can be viewed in their natural mountain habitats through organized gorilla tours at a very close range.

Best known for its wealth of primates, Rwanda also has one of Africa's richest bird life. A staggering 670 different bird species have been recorded in Rwanda. For botanists, the gorgeous wildflowers of the forests and mountains are capped by more than 100 orchid species in Nyungwe alone.

The Akagera National Park in eastern Rwanda is teeming with wildlife both large and small. They range from Lions, Giraffe, Elephant and Hippopotamus to Hyena, Impala and Gazelle. There is a rich variety of bird life at Akagera as well.

When not visiting the mountain gorillas, Rwanda also has water bodies which are ideal for water sports and fishing, particularly Lake Kivu in the west of the country and Lake Muhazi in the east. Lake Kivu also offers beautiful beaches, jutting peninsulas and an archipelago of beautiful islands.

Rwanda, in a nutshell, is a nature lover's paradise. It is also one of the friendliest of countries. A warm welcome is complemented by comfortable facilities, fine food and a rich cultural heritage.


GORILLA TOURISM

When visiting the 'Land of a Thousand Hills', one should not miss out on the magnificent opportunity to visit Rwanda's Parc National des Volcans (PNV) consisting of 125 Km2 of mountain forest and home to the six Virunga Volcanoes and the world famous mountain gorillas.

Protected within the PNV, the lushly forested slopes of the mountains form an appropriately dramatic natural setting for what is arguably the most poignant and memorable wildlife experience in the world: gorilla tracking. The exhilarating climb to the gorilla's natural habitat of shady bamboo forest offers fantastic views in all directions,
before the trackers are immersed in the mysterious intimacy of the rainforest, alive with the calls of colorful birds and the chattering of rare golden monkey.

Nothing can prepare one for the impact of encountering a fully-grown silverback gorilla, up to three times the size of an average man, yet remarkably peaceable and tolerant of human visitors.

Parc National des Volcans is managed and protected by the Rwandan Development Board and National Parks (RDB). Access begins in the lively town of Ruhengeri, situated at the base of the entrance of the park. Ruhengeri has long been the base point for gorilla visits and entertains a stunning backdrop of Karisimbi, Visoke, Mikeno, Sabyinyo, Gahinga and Muhabura volcanoes.

Ruhengeri is a 90-minute drive from Rwanda's capital city, Kigali. One can get to Ruhengeri from Kigali either by private vehicle and from Ruhengeri town to the park boundaries, where you will continue your trip on foot. Ruhengeri is also only a 45-minute drive away from Gisenyi and the stunning Lake Kivu.

The Kinigi Guest House on the foot of Mount Sabyinyo was recently fully refurbished, and is now open. It offers very comfortable accommodation in cottages for two, four or eight people. It also offers a good restaurant and bar. Hotel Muhabura in Ruhengeri town also offers comfortable accommodation in reasonably priced single and double rooms. The hotel also features a reasonable restaurant and bar and fax and telephone facilities.

A gorilla visit can entail anything from a 1 to 4-hour trek through the forest, led by experienced trackers who have spent their entire lives living in or close to the forest. Your trek through the forest will be enchanting as you weave through overhanging vines, moss covered Hagenia trees and giant Lobelias that thrive in the tropical climate of the forest. You will spot golden monkeys swinging from the bamboo, or see wild buffalo, bush duiker and a wide variety of bird life.

The Virunga ecosystem is composed of 4 major vegetation zones: bamboo (base altitude), Hagenia and Hypericum forest (2600-3300m), Sub-alpine (3300-4000m), and Afro-alpine (4000m+).

Then of course, nothing could be more of a privilege than to spend an hour watching the gorillas as they go about their daily routine, feeding, playing and resting, as you question your primeval existence and relive the wonder that kept Dian Fossey living in the forest for almost 18 years.

Useful information for visitors:

1. Mountain gorilla visits:

Visits to gorillas can be booked through the MGCF or through the RDB offices. You must present yourself at the RDB offices situated at the prefecture offices in Ruhengeri (opposite the Hotel Muhabura) at 08h00 on the day of your visit. RDB currently has a team of 80 trackers and anti-poachers, many of whom speak French or English.

To minimize human disturbance to the gorilla groups, visitors must maintain a distance of 7m proximity to the gorillas, the duration of each visit is limited to one hour and maximum number of visitors is 8 people per group.

2. Fees for mountain gorilla visits:

The fee for gorilla visits is $500.00 US per person for non-nationals and 5,400 FRw for Rwandan citizens. You must organize your own transportation to take you up to the park boundaries. RDB can offer assistance with transportation, but you should contact them or MGCF prior to making your visit.

Guidelines for a gorilla visit:

Spitting in the park is strictly prohibited, especially when close to a gorilla group.
Once with the group should the occasion arise that you need to cough, please cover your mouth and turn away from the gorillas.
When with the gorillas, please keep your voice level low and only talk in whispers.
If you get stung by a nettle, please refrain from crying out load and try not to make any rapid movements that may frighten the gorillas.
If a gorilla should charge or vocalize at you, then do not be alarmed, stand still and look away and certainly never run, the guides may ask you to move slowly away if necessary.
Never make any rapid movements and do not disturb the vegetation when with the group, there may be a gorilla hidden behind the leaves.
Please do not leave litter anywhere in the park.

3. Accommodation:

Kigali: Hotel Mille Collines very comfortable accommodations with all the amenities for any gorilla visit.

Kinigi Guesthouse provides comfortable and clean accommodation with breathtaking scenery at the foot of Mount Sabyinyo. It is situated 14 kilometers from Ruhengeri town, and only 200 meters from the Park headquarters.
Rates range from US$ 15 - US$ 35 per night.

4. Further advice for your visit:

The climate in Ruhengeri is unpredictable although you can generally expect both sun as well as rainfall during the day. Ruhengeri is 1,700m above sea level. It is generally quite cold, particularly in the evening. Recommended clothing is long trousers and long sleeve shirts when in the forest to avoid nettle stings. It is likely that you will get hot whilst walking though the forest and will cool down having reached the gorillas due to the high altitude, so you are advised to bring additional clothing.

Nights are quite cold, so a warm jumper is advisable for the evenings.

Wellington boots or hiking boots as well as waterproof raingear are essential when on a gorilla visit. You are strongly advised to bring a water bottle and a small snack although eating, drinking and smoking in the presence of the gorillas is forbidden.

Photography is permitted, although you may not use a flash and if you are intending to bring a video camera, then this must be cleared with RDB and will involve a fee. Porters are available to help you with transporting your baggage for a small charge.

The altitude during gorilla visits may cause difficulties for some visitors, however pace yourself, drink plenty of water and make sure you eat well the day prior to your trip and eat a substantial breakfast. No one should feel deterred from making this trip.

The authorities have made security of visitors among their highest priorities. There should therefore be no need for concern about personal security.

NYUNGWE NATIONAL PARK

Contact details for RDB (Park administrators): 250. 76514 in Kigali

Nyungwe National Park which is situated in the majestic hills of southwestern Rwanda, is the largest 'island' of mountain forest remaining in east and central Africa. This rich and ancient center of unparalleled biodiversity and natural wonders is uniquely accessible to the casual visitor.

Nyungwe is celebrated for its rich variety of flora and fauna. There are at least 200 tree species found in the forest, along with hundreds of different flowering plants, including wild begonia, more than 100 species of orchid, and sensational giant lobelias.

Of the large mammals, primates are the most visible, with 13 recorded species. Of particular interest are the Angola colobus - delightfully acrobatic arboreal monkeys which move in troops of several hundred - and an estimated 500 chimpanzee. Other primates one might encounter are L'Hoest's monkey, silver monkey, vervet monkey, olive baboon, grey-cheeked mangabey and red-tailed monkey.

Nyungwe is also home to more than 275 bird species, making in the regions most important birding site. They include the spectacular Rwenzori turaco, the secretive red-chested alethe, and several iridescent sunbirds. Equally remarkable are the perpetually honking giant hornbills that crash through the forest canopy, and the stunning great blue turaco, an outlandishly blue, red and green bird.

Nyungwe lies at an elevation of between 1,600 meters and 2,950 meters, and enjoys an agreeably cool. An extensive network of well maintained forest trails leads to a number of waterfalls and viewing points.

A comfortable rest house and perfectly situated campsite lie alongside the main road, and the reserve can be visited as a day trip from smarter hotels in the towns of Butare and Cyangugu.

AKAGERA NATIONAL PARK

Contact details for RDB (Park administrators): 250. 76514 in Kigali

Akagera comes as an exciting surprise after the steep cultivated hills that characterize the rest of Rwanda. Set at a relatively low altitude along the Tanzanian border, this beautiful game reserve features an archetypal African Savannah landscape of tangled acacia and brachystegia bush, interspersed with patches of open grassland and a dozen swamp-fringed lakes that follow the course of the Akagera River.

Akagera's stirring and varied scenery is complemented by a superb range of big game. Herds of elephant and buffalo are likely to be encountered when they emerge from woodland to drink in one of the lakes. One may also stumble across a lion, leopard or spotted hyena. There are also giraffe, zebra, and more than a dozen types of antelope, particularly the handsome impala, the diminutive oribi, the secretive bushbuck and eland.

To camp alongside Akagera's picturesque lakes is a truly mystical experience. Herds of hippopotami grunt and splutter throughout the day while fish eagles fly overhead. Other birds one can expect to see are, storks, egrets, ibises, plovers, sandpipers, kingfishers and herons.

TRAVEL TIPS

Getting to Rwanda: One can fly to Rwanda's Kanombe International Airport which is 10kms away from central Kigali.

Passports and visas: A valid passport is mandatory. VISAS ARE NOT REQUIRED FOR NATIONALS OF THE USA, GERMANY, CANADA, UGANDA, TANZANIA, KENYA, BURUNDI AND THE DRC.

Health: A certificate for yellow fever vaccination is required. Malaria is present and anti-malarial drugs are recommended. Bottled mineral water, which is available in all major towns, is recommended instead of drinking ordinary tap water.

Money: The unit of currency is the Rwandan franc, which is traded at US$1=Rfr 430- 450 in April 2001. The US dollar is the hard currency preference. It may be impossible to exchange travelers' checks at a good rate (or at all) away from Kigali. All major credit cards can be used at hotels and good restaurants in Kigali.

Language: In addition to the indigenous language, Kinyarwanda, French and English are the official languages. French is widely spoken throughout the country, while many people speak English in Kigali and the main tourist areas. Kiswahili is also widely spoken around the country.

NOTE: Citizens of the United States of America do not require visas to travel to Rwanda.
© The Government of Rwanda.