Veterinary Project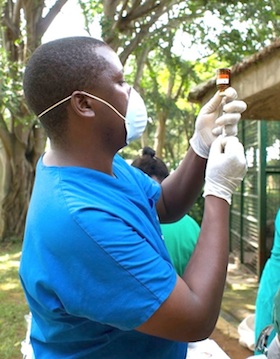 The locals set snares in the National Parks to capture deer or duiker (their food source), but the gorillas also get caught in them. If discovered in time, a team of veterinarians will go in to assist the animal and release it from the snare.
At the request of Dian Fossey, in 1985, Ruth Keesling founded the Mountain Gorilla Veterinary Project for mountain gorillas in Rwanda, Uganda and the Democratic Republic of the Congo. Ruth sent the first veterinarian into the jungle in 1986 and this program has been highly effective ever since.To date, 17 veterinarians have now served in Africa.
Trained veterinarians are always needed to provide care for the Mountain Gorillas that are injured or sick, as well as to monitor the overall health of gorilla individuals and their families. With human encroachment, diseases and problems are more frequent.

Did you know?
The work of the Vets has proven to be the leading cause for saving this animal.
---
Keesling Wildlife Scholarship Fund

Please donate to the scholarship fund and help give a fighting chance to a student who wants to take care of Uganda's wildlife. They need your help and any amount will make a huge difference in their family's lives.